IN CHARGE OF ALL INSTITUTE'S ACTIVITIES 
Nassos Teopoulos, M.D.
Psychiatrist and Homeopath, founding member of the Hellenic Institute of Orgonomy
He lives in Thessaloniki and works as an orgone therapist and a homeopath in Athens and Thessaloniki.
Academic titles and studies: Degree in Stuructural Engineering from the National Technical University of Athens (1980). Diplomate of Medicine from the Faculty of Medicine of Aristotle University of Thessaloniki (1988) and Diplomate in Psychiatry, Greek Board of Psychiatry (1995). Diplomate of Homeopathy, member of the Greek Society of Homeopathic Medicine and member of the Liga Medicorum Homeopathica Internationalis (1995). Degree in Greek Culture from the Greek Open University (2017).
He trained in the psychotherapeutic technique of orgone therapy at the American College of Orgonomy and he was a Clinical Associate of the College for over ten years, taking part in The Training Program of Medical Orgonomy of the College (1997-2011). He is a member of the Hellenic Psychiatric Association, co-founder, along with child psychiatrist George Argyreas, of the Hellenic Society of Psychiatric Orgone Therapy and Character Analysis, and member of ΕΑΒΡ (European Association for Body Psychotherapy).
Since 2002 he is the director of the Microscopic Observation and Biophysical Research Laboratories, where he studies and repeats the experimental work of psychiatrist and natural scientist Wilhelm Reich.
Since 2013 she has been teaching seminars on Orgonomy and from the academic year 2019 -2020 seminars for mental health professionals, doctors and psychologists who wish to practice psychiatric orgone therapy and character analysis. Occasionally lectures on Orgonomy to the general public.
His has an active interest in Gunther Enderlein's polymorphic theory, in the cellular death of red blood cells (apoptosis) and in the work of other researchers working in related fields (Gaston Naessans, Gitte Jensen and others).
---

IN CHARGE OF RESEARCH LABORATORIES 
Despina Malkotsi
Medical Laboratory Technician, in charge of the Microscopic Observation Laboratory
Academic titles and studies: Degree as a Medical Laboratory Technician from the Technological Educational Institute of Larissa (1981). Degree from the School of Pedagogical and Technological Institute of Thessaloniki (1985). She trained in electron microscopy techniques at the Department of Veterinary at the Aristotle University of Thessaloniki (1989). She attended an 80-hour project at the Technological Educational Institute of Thessaloniki titled: "Technology and information – Modern Operating Systems" (1999). Degree in Theology from the Aristotle University of Thessaloniki (2012). She worked at the Microbiology Laboratory of the "Saint Lucas" Clinic in Thessaloniki (1981); and at the Microbiological and Pathoanatomical Laboratory of the General Peripheral Hospital "Hippocrates" of Thessaloniki (1982-1994). She collaborated in a research project titled: "Study of NORS in endometrial hyperplasia and adenocarcinoma" at the Pathoanatomical Laboratory of "Hippocrates" Hospital of Thessaloniki. She collaborated in meetings regarding vocational training and as an educator in issues of "… Teaching". She attended seminars on Health Education, Research Projects and she worked on related projects.  She works as a high school teacher (Vocational and Technical Schools) since 1994.
Christos Grapsas
Electrical engineer, in charge of the Biophysical Research Laboratory
He was born in 1978 in Thessaloniki, where he lives and works.
He studied Electrical Engineering at the Democritus University of Thrace (2007). In 2018, he received an Executive MBA from the International University of Greece.
---
Ernesto Beroukas
Oncologist Radiotherapist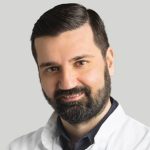 Ernesto Beroukas is an Oncologist Radiotherapist, Director of the Department of Radiotherapy Oncology at the Metropolitan Hospital.
He received his medical degree in 1999 from the Kapodistrian University of Athens and his Ph.D. in 2009 from the Medical School of Democritus University of Thrace (grade Excellent).
In 2006 he completed his specialty in Radiotherapy Oncology in the Department of Radiotherapy Oncology, Anticancer Piraeus Hospital "Metaxas", in the Department of Radiotherapy Oncology, "Agios Savvas" Oncology Hospital and in the Department of Radiotherapy, Offenbach Hospital, Germany.
He has participated in international clinical trials. He has published in national and international scientific journals, and he participated and gave presentations and papers in many national and international conferences.
From 2015 to present he is a lecturer at the Postgraduate Program of the Medical School of the National Kapodistrian University of Athens entitled: "Lung Cancer: Contemporary Clinical Laboratory Approach and Research".
He is a member of the scientific organizations European Society for Therapeutic Radiology and Oncology (ESTRO), American Society for Therapeutic Radiology and Oncology (ASTRO), Hellenic Society of Radiotherapy Oncology, Hellenic Cancer Society.
From 2006 to 2012 he volunteered on a weekly basis as a physician at the Open Polyclinic of the "Médecins du Monde" NGO.
Eleni Stamou
Radiologist
Eleni Stamou is a medical Radiologist who lives and works in Athens. She graduated in 2004 from the Medical School of the Kapodistrian University of Athens (grade B). She received her Master's Degree in Interventional Radiology in 2010 from the same faculty, and in 2014 she received the Radiology Specialty.
Since 2018 she is a Research Fellow in the Department of Magnetic-Computed Tomography of the Athens Medical Center, P. Faliro Branch.
She has attended numerous national and international seminars and conferences.
From 2006 to 2013 she volunteered on a weekly basis as a physician at the Open Polyclinic of the "Médecins du Monde" NGO and from 2011 as a radiologist at the same organization's Ultrasound Unit.
---
LECTURERS
Maria Zanni
Psychologist, Psychotherapist
Maria Zanni is a psychologist, psychotherapist and physical reichian psychotherapist. She holds a degree in Psychology from Canterbury Christ Church University in England, a degree in Social Policy and Social Anthropology from Pantion University, a Master of Science degree in Criminology and a PhDc in Criminology from Pantion University, Athens.
She has specialized in Physical Reichian Psychotherapy at the Hellenic Institute of Neurophytotherapy and Character Analysis (EINA), where she also attended Master's level training in Gestalt psychiatry with Barrie Simmons, in Body and Character Analysis with Alberto Torre and Clinical Surveillance with Genovino Ferri. At the same time, she has attended a number of trainings on individual psychotherapeutic approaches: Training at the GFH Gesellschaft zur Förderung des Festhaltens als Lebensform und Therapie eV, by Irina Preskop, in Couple and Family Therapy, in Non-Violent Communication by M. Rosenberg  and Systemic Representation B. Helliger.
She has been inn charge of programs on social women exclusion, women and children trafficking, social and occupational reintegration of detainees, as well as forensic research.
She is also the Scientific Lead since 2011 of the Nonviolent Communication for Schools Without Violence Program of the non-governmental Center for Peace Research and Action (KEDE) under the auspices of the Ministry of Education, which aims to prevent violence in schools.
She is a member of the Panhellenic Association of Physical Psychotherapy, the Hellenic Counseling Society and the European Physical Therapy Organization.
Themistocles Tzotzas
Endocrinologist
Themistocles Tzotzas is an Endocrinologist – Diabetologist who lives and works in Thessaloniki. He is a graduate and doctor of medicine at the Aristotle University of Thessaloniki Medical School. He was trained at the Endocrinology Clinic of Pitié-Salpêtrière hospital in Paris for six years, where he specialized in metabolic diseases (dyslipidemias – obesity – diabetes mellitus) and for one year he worked as a lecturer.
He has worked as a curator of the Endocrinology Clinic at Panagia Hospital of Thessaloniki (1990-2013) and as an NHS director at Agios Pavlos Hospital (2013-2014). He is a member of the European Association of Specialist Endocrinologists and a physician trainer in the sub-specificity of obesity at a European level, and for many years he has been a member of the Board of Directors of the Hellenic Obesity Medical Society. For four years he has been teaching as an associate professor in the Department of Nutrition and Dietetics at the Technological Educational Institute of Thessaloniki and now teaches at the postgraduate "Clinical Nutrition" of the same department and the postgraduate "Diabetes" of the Nursing Department.
His research work is mainly focused on lipid disorders and obesity and has published more than 50 foreign-language papers with reviewers and 60 Greek, as well as 8 book chapters (3 foreign and 8 Greek). He is a scientific reviewer in many international medical journals. He has been the chief scientific officer of five epidemiological and interventional studies on childhood and adult obesity in Greece.
He is currently the Director of the External Endocrinology and Obesity – Metabolic Disorders Clinic of Agios Loukas private clinic of Thessaloniki and at the same time maintains a private clinic. He is also a Research Associate at the 1st AHEPA Educational Pathological Clinic at AHEPA Hospital.
---

SECRETARIAL SUPPORT
Kostas Theodoribassis
Publisher
Kostas Theodoribassis was born in 1955 in Athens where he currently lives. He has been involved in Reich's work since 1975 translating and experimenting on it. Since 1999 he has established his own publishing firm. Emphasizing on alternative therapies, he has published, among other things, a significant part of Wilhelm Reich's works, as well as works by other authors on Orgonomy.
Anastasia Kyriakidou
Publications editor
I was born in 1958 in Thessaloniki, where I live and work until today. I studied Graphic Design at the Deutsche Fachhochschule für Grafik und Design School in Athens and worked for many years in typography design (books, magazines and newspapers). Since 2004 I have been working as a translator, text editor and copywriter for books, magazines and websites.
In 2020 I obtained the title of Assistant Physiotherapist.